[siteorigin_widget class="N2SS3Widget"][/siteorigin_widget]
About iHearBand
specializes in professional music event, whether its formal or informal occasion,
indoor or outdoor ceremony or from solo, duo to big band. We tailor-make our band to serve all purposes,
including wedding reception, farewell party, condominium opening, product promotion, etc.
with variety music style: jazz, bossa nova, pop and thai loogkrung & loogthung. (see Music Rendezvous at Emporium)
Our Uniqueness
'iHearBand' originated with 'Open Source' concept, gathers professional/amateur musicians and applies social media such as facebook and twitter for our music performance and activities, in conclusion, "Social Media Community Band". Our 'Social Network Concept' or co-marketing with social media supports Creative Commons to share our music with permission and link back to our source. No charge for non-commercial purpose!!
[siteorigin_widget class="N2SS3Widget"][/siteorigin_widget]

iHearBand testimonial
Our reputation in market
With positive feedback from the market, we're promoted through below the line media such as daily express newspaper, Go training magazine, ccSalon at TCDC, also above the line such as Khao-Khon on MCOT channel 9, and nation channel.




How to contact us
via email/ sms. Your early reservation
will be appreciated with 50% deposit policy.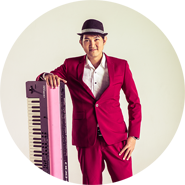 Khun PATT
pat @ iPattt.com
+668 6896 5900

iHear Band in the News
Well over a hundred Tweeple take part in the Sunday evening event at Wawee Coffee Shop in Soi Aree, seven of whom have joined the three member iHearBand.